The construction work on the Dwarka Expressway project (NH 248-BB) is currently underway as an access-restricted expressway. The highway will link Kherki Dhaula in Haryana with Mahipalpur (Shiv Murti) in Delhi via New Gurgaon (Gurugram).
The Northern Peripheral Road (NPR) was the project's original name when it was first proposed in 2006, but the National Highways Authority of India (NHAI) subsequently received control of it.
The highway was built by the two construction firms J Kumar and Larsen & Toubro. More than 20 flyovers and bridges, 2 train overbridges and underpasses, 11 car underpasses, 20 subterranean pedestrian crossings, and a 2.5 m wide cycle and bike trail are all included in the project.
The anticipated completion and opening date for the Dwarka Expressway project is June 2023, which is later than the project's initial completion date of December 2022.
Total Estimated Cost: Rs. 8,662 crore
Length: 29.10 km
Lanes: 8 lanes + local service lanes
Owner: National Highway Authority of India (NHAI)
Status: Under Construction
Completion Deadline: 2022-end
Project Model: Engineering, Procurement & Construction (EPC)
The DMRC has planned to build a subway line that will follow the route of the Dwarka Expressway. However, the Haryana government is still considering whether to approve this initiative as well as a number of others.
In addition, as part of the Dwarka Expressway project's Package 5, a new 5 km tunnel has been suggested to link Terminal 3 at Delhi's Indira Gandhi International (IGI) Airport.
Project Overview Video
Route Map
The construction of the Dwarka Expressway through New Gurgaon has led to the development of many new housing and residential real estate projects. The expressway passes through residential sectors such as 83, 84, and 99-113, along with several commercial sectors including 105, 106, 109, 110, 110A, 111, 112, and 113. Along the route, there are also business sectors 105, 106, 109, 110, 110A, 111, 112, and 113.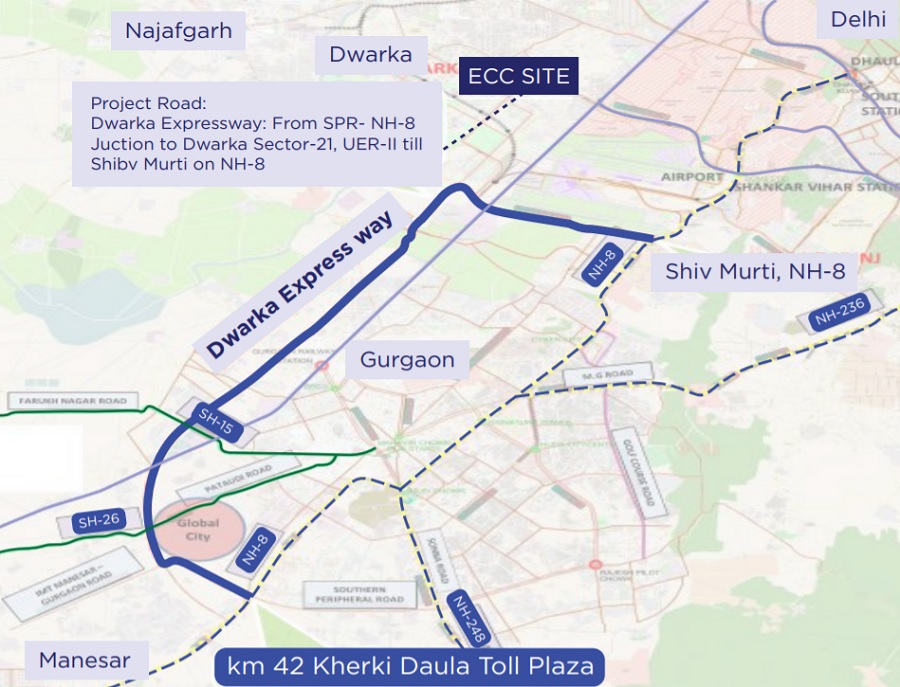 The authorities have divided the Dwarka Expressway project into four sections, with two sections in Delhi totaling 10.10 km and the other two sections in Gurugram totaling 19.0 km.
Prakhar Sahay has provided a thorough explanation of the orientation, features, and interchanges of all four products on YouTube.
Package 1
Scope: IGI Airport and Shiv Murti at Mahipalpur to Bijwasan Road Underbridge (RUB) (Km -0.60 to Km 5.30)
Length: 5.90 Km
Contractor: J Kumar Infraprojects (JKIL)
Contract Value: Rs. 1349 crore
Status: Under construction since September 2020 after Delhi Government's approval in July, 2020
Note: The planned UER II Expressway on the west side of Delhi will include the Dwarka Expressway project as a major component. The planned Rangpuri Bypass, which will link to Vasant Kunj at Nelson Mandela Marg, will also use it as its western terminus.
Package 2
Scope: Bijwasan RUB to Delhi/Haryana Border (Km 5.30 to Km 9.50)
Length: 4.2 km
Contractor: J Kumar Infraprojects (JKIL)
Contract Value: Rs. 1540 crore
Status: Under Construction
Note: Package 2 of the Dwarka Expressway project connects to the international exhibition-cum-convention center (ECC) project, which is presently under development in Sector 25 of Dwarka.
Package 3
Scope: Delhi/Haryana border to Basai Rail Overbridge (ROB) (Km 9.5 to Km 19.70)
Length: 10.2 km
Contractor: Larsen & Toubro (L&T)
Contract Value: Rs. 1334 crore
Status: Under Construction
Note: This deal includes an 8.5 km, 8-lane flyover on a single wharf, and they are adding an additional ROB to Basai ROB.
Package 4
Scope: Basai ROB to Kherki Dhaula (Km 19.70 to Km 28.5)
Length: 8.8 km
Contractor: Larsen & Toubro (L&T)
Contract Value: Rs. 1,046 crore
Status: Under Construction
Note: The Dwarka Expressway Project's southern terminus, where it joins with the Central Peripheral Road (CPR), leads to the Southern Peripheral Road in the conclusion. (SPR). They are currently constructing a cloverleaf interchange to connect the expressway with the NH-48 (previously known as NH-8) highway.
Package 5
Scope: Airport Connectivity from Dwarka Expressway – Tunnel to T3
Length: 5 km
Lanes: 4
Contractor: Not Assigned
Status: Tender Notice Pending
Status Update
The original target date of December 2022 for the Dwarka Expressway project will not be met, and the project is now expected to be completed and opened in June 2023.
A YouTube film by Rajan Singh (RSLive) gives an update on the expressway project's current state.